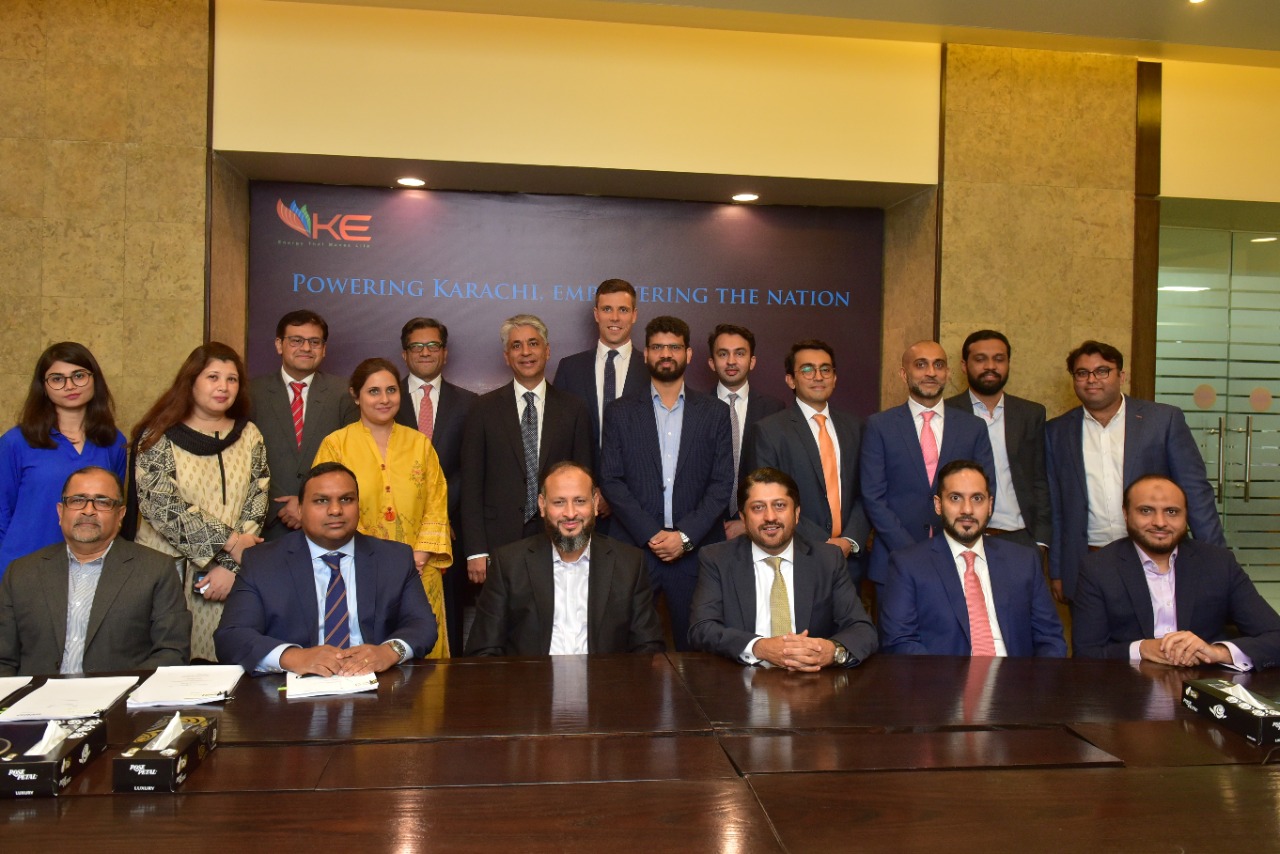 Karachi, Oct 01, 2019: K-Electric has signed a dual-currency US$ 50 million loan agreement which is supported by GuarantCo to undertake upgradation of power infrastructure including the installation of theft-resistant Aerial Bundled Cable (ABC) as well as smart grid solutions. Standard Chartered & Askari Bank Limited are the Mandated Lead Arrangers, with Standard Chartered structuring the Facility and Askari Bank being the Agent for the PKR Tranche of the loan.
The financing documents were signed at KE head office by Moonis Alvi, CEO and Rizwan Pesnani, Head of Treasury from KE, Shazad Dada, CEO, SC, Syed Jafar Raza, Head of Investment & Transaction Banking Askari Bank, and Lasitha Perera, CEO, GuarantCo.
This investment will directly benefit the citizens of Karachi and will further improve the reliability of KE's network. The dual currency 5.5-year corporate term loan will be split equally into two tranches denominated in Pakistan Rupees (PKR) and US Dollars (USD) to be given by Standard Chartered. GuarantCo is the guarantor for the transaction with a partial guarantee to support the loan facility. Moreover, GuarantCo, through the PIDG Technical Assistance Facility, is providing a USD 185,000 grant to co-finance the awareness and capacity building workshops to reduce safety risks and technical/non-technical losses in K-Electric's distribution/transmission network.
According to Moonis Alvi, CEO, "This collaboration with Standard Chartered, Askari Bank Limited and GuarantCo is yet another step in a series of investment initiatives to further strengthen the city's power infrastructure. So far KE has installed theft-resistant Aerial Bundled Cable (ABC) on nearly 7,500 PMTs across the city and this collaboration will help us accelerate the roll out of ABC to further reduce losses and theft in line with our vision of a load-shed free Karachi. We are also thankful to GuarantCo for the announcement of grant which is in line with our vision of empowering communities."
Shazad Dada, CEO Standard Chartered said: "Standard Chartered, consistent with our brand promise of being Here for good, offers innovative financing solutions for our clients that enhance their operational efficiency. As a bank we are focused on creating sustainable impact in the markets where we operate. We are proud to partner with GuarantCo in this transaction that will enable K-Electric in building a safer and reliable infrastructure for the people of Karachi."
Lasitha Perera, CEO of GuarantCo said: "We are proud to have closed this transaction and make a contribution to improve safety, reliability and affordability of power, by reducing currency volatility, and collection of billed electricity among the lower income population in Karachi. The hybrid USD/PKR structure that we developed in conjunction with Standard Chartered Bank provides K-Electric with a long-term currency hedge which would typically be more expensive to put in place using the derivative markets. This improves the overall affordability of the transaction for KE and thereby its customers."
Over the years, KE has taken various measures to further enhance the reliability of power supply across its network including the installation of ABC – guaranteeing both safety and higher system efficiencies. Areas post-ABC conversion have shown tremendous progress and experienced noticeable improvement in power supply. The significant reduction in T&D losses by KE from 35.9% in 2009 to 20.4% in 2018 through a combination of loss reduction projects and initiatives such as installation of ABC was also endorsed by the National Electric Power Regulatory Authority (NEPRA) in the State of Industry Report 2018.
KE also works closely together with the community to first ensure the conversion of illegal hook connections to legal connections and prevent further theft through ABC roll-out. In addition, the company launches large-scale safety campaigns ahead of the summers and rains. KE has invested over US$ 2.1 billion across the energy value chain between 2009-2018. The power utility is also working on an investment plan of USD 3 billion over the next four years. This continuous stream of investment from KE reinforces its long-term commitment to serve the people of Karachi.