KE's distribution network spans across 6,500 km2 serving a customer base of over 2.5 million consumers. We supply our customers through power lines, substations and pole-mounted transformers, and our network is divided into 30 distribution centres.
Our distribution network comprises (as of FY 21):
29,702
Distribution S/S/PMTs
8,153 MVA
Distribution Capacity
Transmission and Distribution Losses
Energy losses occur in the process of supplying electricity to consumers due to technical and commercial reasons. Technical losses are due to energy dissipated and are inherent in any system. These can be reduced to an optimum level through technological investments. Commercial losses however are caused primarily on account of theft or illegal abstraction of power.
Over the last several years through on-going efforts KE has succeeded in reducing line losses and improving recoveries in several areas o f Karachi. The utility remains focused on further improving the situation through continuous process enhancements and several pilot projects are being explored.
Annual T&D losses for FY 2021 stood at 17.54%, a decrease of 18.36% since 2009.
T&D Losses (%)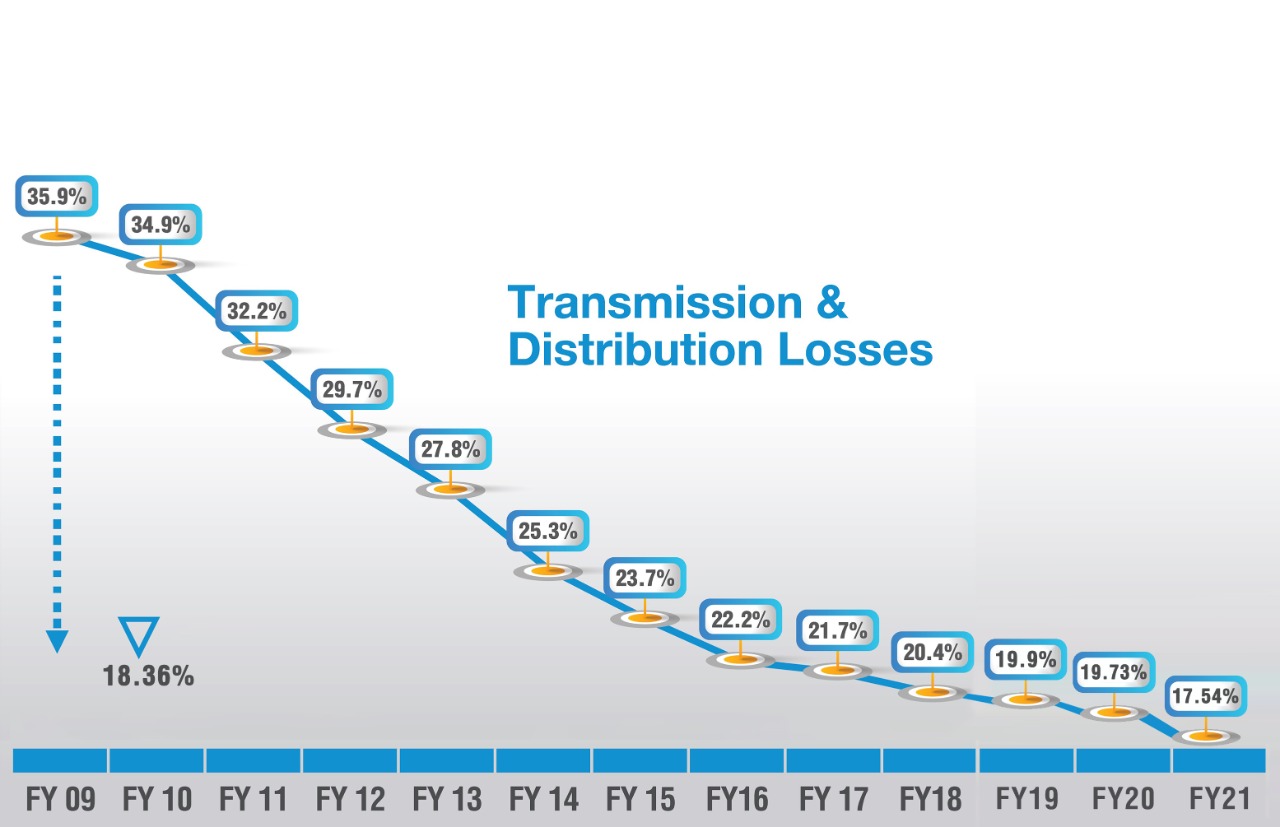 KE emphasises:
– Customer-focused business relations through:
Efficient Integrated Business Centres for consumer service (all solutions under one roof)
An exclusive corporate desk to handle consumers with a load requirement of 1MW and above
A dedicated department which manages public sector consumers
– Highly professional and skilled staff: we organise comprehensive training and development programmes to enhance employee productivity.
External challenges include:
Meeting demand in Pakistan's largest city, with its rising population and mushroom growth of unleased areas and multi-storey buildings
Uncertain law and order situation
Politically influenced culture
Cumbersome legal procedures
Distribution Losses (%)
• Supply management (Segmented Load-shedding) under a Reward and Reprimand policy and today over 70% of the city is load-shed free with 100% exemption given to industries.
• As of FY 18, KE's low and medium loss areas comprise 18 out of the 30 CCCs, consuming 70% of overall energy.
Distribution – Recoveries
Recovery Ratio (%)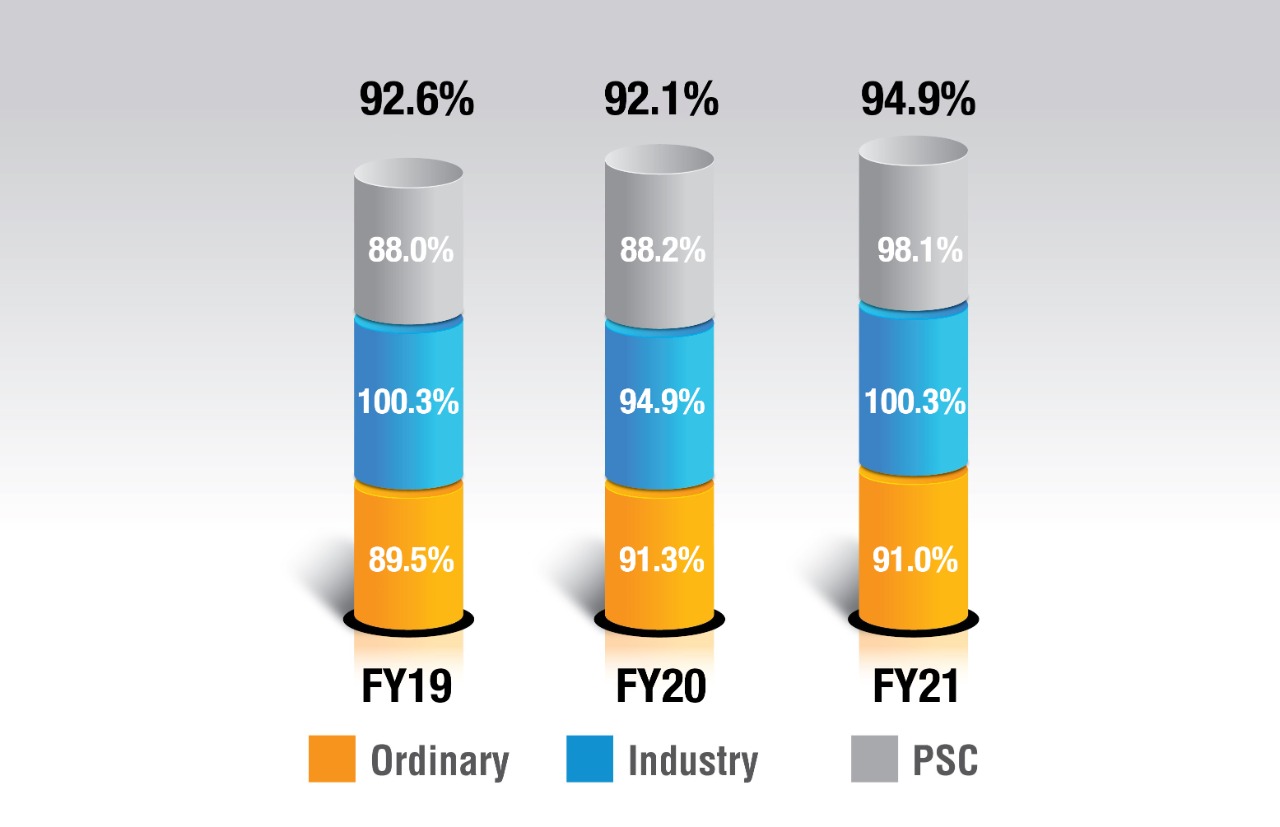 100% recovery ratio from industrial consumers.
A massive crackdown campaign was launched against defaulters and electricity theft in line with the Criminal Law (Amendment) Act of 2016 and all such consumers were given the opportunity to opt for convenient payment plans to clear their dues.
Payment plan in low income areas made easy and convenient through rebate and token payment options and special installment plans, enabling company to get defaulters on board.
*PSC: Public Sector Consumers
Initiatives
Aerial Bundled Cables
In order to better serve our consumers and in line with KE's commitment, Aerial Bundled Cables (ABC) installation was launched as part of the solution to challenges Karachi faces. ABC are overhead power lines consisting of a number of insulated wires bundled tightly together. It is a safer and more reliable way of conducting electricity. Most importantly ABC prevents power theft through the use of kundas/hooks. KE is using Aerial Bundled Cables to put an end to kunda culture in the city and spread Ujala in lives of majority of bill paying customers of Karachi.
Following the success of ABC Project, to date, over 7,500 Pole-Mounted Transformers have been converted to ABCs. As a result of this initiative KE has successfully converted high-loss areas to low loss through enhanced reliability of power supply and paved way for better livelihoods, education, health and an improved quality of life. Click here to read more about how KE is changing lives through this initiative.
Mobile Meter Reading
Mobile Meters Readers digitally record meter readings, which are transmitted wirelessly from the field for quick processing; pictures of faulty meters are uploaded through customized software. The power utility has equipped its meter readers with state-of-the-art hand-held devices to note meter readings and upload respective data to KE servers. The development has eliminated human intervention associated with manual meter reading.
IBC on Wheels
KE has brought quality customer service to its consumers' doorsteps. The project is the first of its kind and eases the customer experience for payment and support. The objective behind the project is consumers' facilitation at their doorstep; a special vehicle designed to fit the description of a mobile branded IBC. This is aimed at setting up movable camps in various neighborhoods of the city; especially focusing on far flung areas and those neighborhoods where the actual IBC is at a distance. Customers approach the IoW truck with all their billing inquiries/disputes and avail bill related information and services including duplicate copy, availing installment plans and etc. Along with this, for the first time in KE's history, on-spot payment facility was also made available on-board IBC on Wheels, making it a one stop shop for our customers. Therefore, in areas where bank branches are limited and remote, customers were facilitated to make payments through IBC on Wheels.
Asaan Meter
KE also introduced a simplified variant to its New Connections product line this year, called 'Aasaan Meter'. The project intends to bring ease, pace, automation and transparency at all levels for new connections. This customer-centric initiative has simplified the new connection process, and a dedicated NC desk has also been established at all of KE's 30 Customer Care Centres. KE has also developed e-payment solutions for this service.
Simplified New Connection form and Undertaking: Easy to understand new connection form with single undertaking
Auto SMS Generation: Consumers are updated about their case status at every step
Easy Payment Facility: New Connection estimate and SD can be deposited at: Habib Metro Bank KHI/HUB, Faysal Bank KHI/HUB, Askari Bank KHI/HUB, Telenor Bank Booth at KE IBC (Garden, Baldia, Orangi – I, Liaquatabad, North Karachi, Federal B Area), Telenor Easy Paisa Retail Shops, HBL Express Retail Shops, HBL Internet Banking, HBL Mobile App
Process reengineering: Rationalized process to reduce new connection turnaround time
Customer centricity: Key account managers for scheme cases handholding, issue identification and resolution
Mobile New Connection Van: Low cost meters introduced for consumers in less privileged areas
SAP-PM
In FY 2018, KE introduced SAP-Plant Maintenance for asset maintenance and digitization of various operational processes which has been one of the core focuses of KE. Several initiatives including tracking of annual preventive maintenance on key assets of network, digitization of shutdown process, introduction of on-system 'Permit to Work', work order based Corrective and Preventive maintenance, and introduction of Mobility solution for field teams are part of this project. These initiatives have given KE a systematic approach to create, track and monitor some of its key assets. They have also enabled KE to better manage its outage and maintenance operations that are now seamlessly linked with the complaint management system.
Payment Solution
KE is determined to provide digital mode of payments to its valuable customers, giving customer convenience prime importance. For online payments, KE has initiated e-payment service on its website using your credit/debit card. Another option for online bill payment is through your Internet or Mobile Banking of all leading banks. Upon using any of the above alternate payment modes you will receive either a slip, email or SMS from the respective Payment Channel which will serve as the receipt of your payment.
You can also pay your monthly bills in cash through Bykea bill collection service which is free of charge. All you have to do is Call/WhatsApp Bykea at 0308-0123456 and pay your bill from the comfort of your home. In addition, KE has also partnered with Daraz where customers will now be able to pay their monthly bills through Daraz App under dbills ,T&C to apply.
Our bills are also collected by 3,000+ branches of around 37 Banks & Post Offices, and through Branchless Banking channel via 40,000+ Retail Shops, spread over the entire of Karachi and its suburbs. Furthermore, banking booths have also been established in different IBCs to facilitate consumer for all types of payment solutions offering ease to all walk-in customers.