KE creates value both for its customers and its employees. This is based on a harmonious pursuit of the company's operational and financial goals, blended with a holistic value-creation approach which fully incorporates the company's sustainability objectives.
This approach is demonstrated in the following areas:
Generation
Over the last few years, KE has enhanced its generation capacity by approximately 1,057 MW and improved its overall fleet efficiency by 23%. K-Electric continues to expand its generation portfolio by developing projects with external developers and through self-generation. In line with its efforts toward cleaner energy, KE will be the power off-taker from a 50 MW solar IPP in process of being developed by Oursun Pakistan Limited. In pursuit of its commitment to its customers, K-Electric has unveiled plans for a USD 1 Billion, 900 MW power plant at Bin Qasim. In addition, KE's flagship Bin Qasim Power Station (BQPS)-II has become the first Pakistani power plant to achieve ISO 50001 energy management system certification which is a testament to KE's longstanding commitment to sustainability, including energy management initiatives to reduce energy consumption and greenhouse emissions. All these efforts are in line with K-Electric's vision of a load-shed free and prosperous Karachi.
The organisation now generates almost 55% of the electricity it distributes through its own systems.
KE's fleet efficiency has increased from 30.4% in (Jan-Dec, 2008) to 37.1% (Jan-Dec, 2015).
Transmission & Distribution
Through on-going investments in its Transmission and Distribution infrastructure, KE has taken major steps towards enhancing its capacity and system reliability as well as customer service. These include projects such as TP-1000, a USD 440 Million transmission enhancement plan, adding 1000 MVA to our network, and Aerial Bundled Cables which replace bare overhead power lines with insulated cables tightly bundled together. The insulated cables are a safer and more reliable way of conducting electricity and also prevent power theft. As a result of its efforts:
T&D losses have been reduced to an all-time low of 22.2%.
61% of consumers are load-shed exempt vs 36% in 2009 and uninterrupted power is supplied to industrial zones.
The organisation has achieved a complete roll-out of SAP IS-U, the world's best system for billing, which ensures efficiency and creates transparency by eliminating human intervention.
K-Electric deploys Genesys – the world's leading customer experience platform which enhances call handling capacity, builds customer profiles, speeds the turnaround time for complaint logging and response and enables customers to share their feedback at the end of the call.
17 KE Integrated Business Centres (IBCs) and 4 departments are certified under the ISO 9001 – 2008 Quality Management System.
Health, Safety and Environment
KE has adopted an unwavering commitment to excellence in Health, Safety, Environment and Quality. The organisation firmly adheres to its motto of 'No Compromise on Safety'.
KE conducted 55,729 man-hours of safety training and carried out over 2,928 safety inspections conducted in FY 2017.
Finance
There has been marked improvement and growth in crucial performance indicators in recent years, as demonstrated in the below graphs: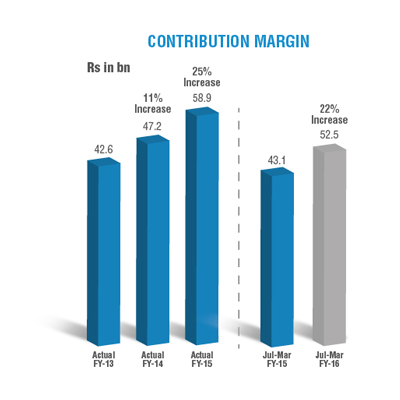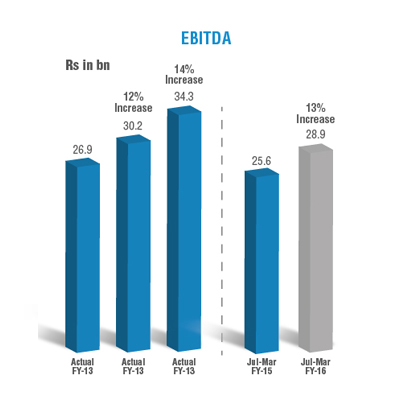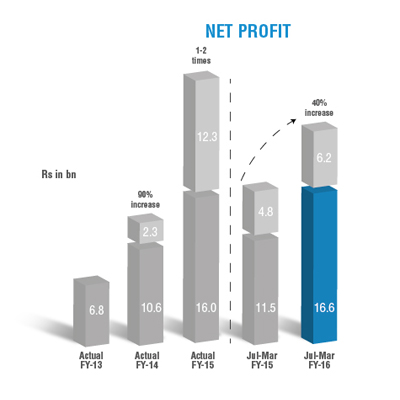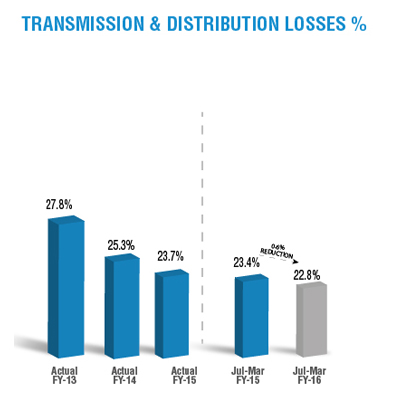 Investment
KE has made major investments in recent years. The total capital expenditure on generation, transmission and distribution projects exceeded PKR 130 billion from 2009 to 2016.
Secured Financing
KE has secured a financing of up to USD 250 million from the Overseas Private Investment Corporation (OPIC) , and signed an agreement with OPIC for 10-year financing arrangements. This OPIC loan is part of a USD 450 million investment planned by KE for its transmission and distribution system, including the installation of grid stations, transmission line equipment and other enhancements.
KE Azm Sukuk & Sukuk-ul-Shirkah certificates
In 2015, after the tremendous success of the KE AZM Sukuk, KE launched the Sukuk-ul-Shirkah (Shirkat-ul-Milk), worth PKR 22 billion, out of which PKR 7 billion was offered to the general public. The proceeds were utilised to prepay long-term loans to the International Finance Corporation and the Asian Development Bank.
Human Resources
KE's HR People Strategy focuses on Enabling, Energising and Empowering employees.
A major focus on employee engagement and culture has commenced
The Performance Management Framework has been implemented to build a culture of trust, enhance business performance, and retain and develop outstanding employees
Marketing & Communication
The Marketing and Communications function strengthens KE's brand image and communication platforms through proactive stakeholder engagement across key strategic, operational and social dimensions.
K-Electric continues to contribute to the health of the communities in which it operates, maintaining a wide range of CSR and sports activities in order to help build a better society for all.