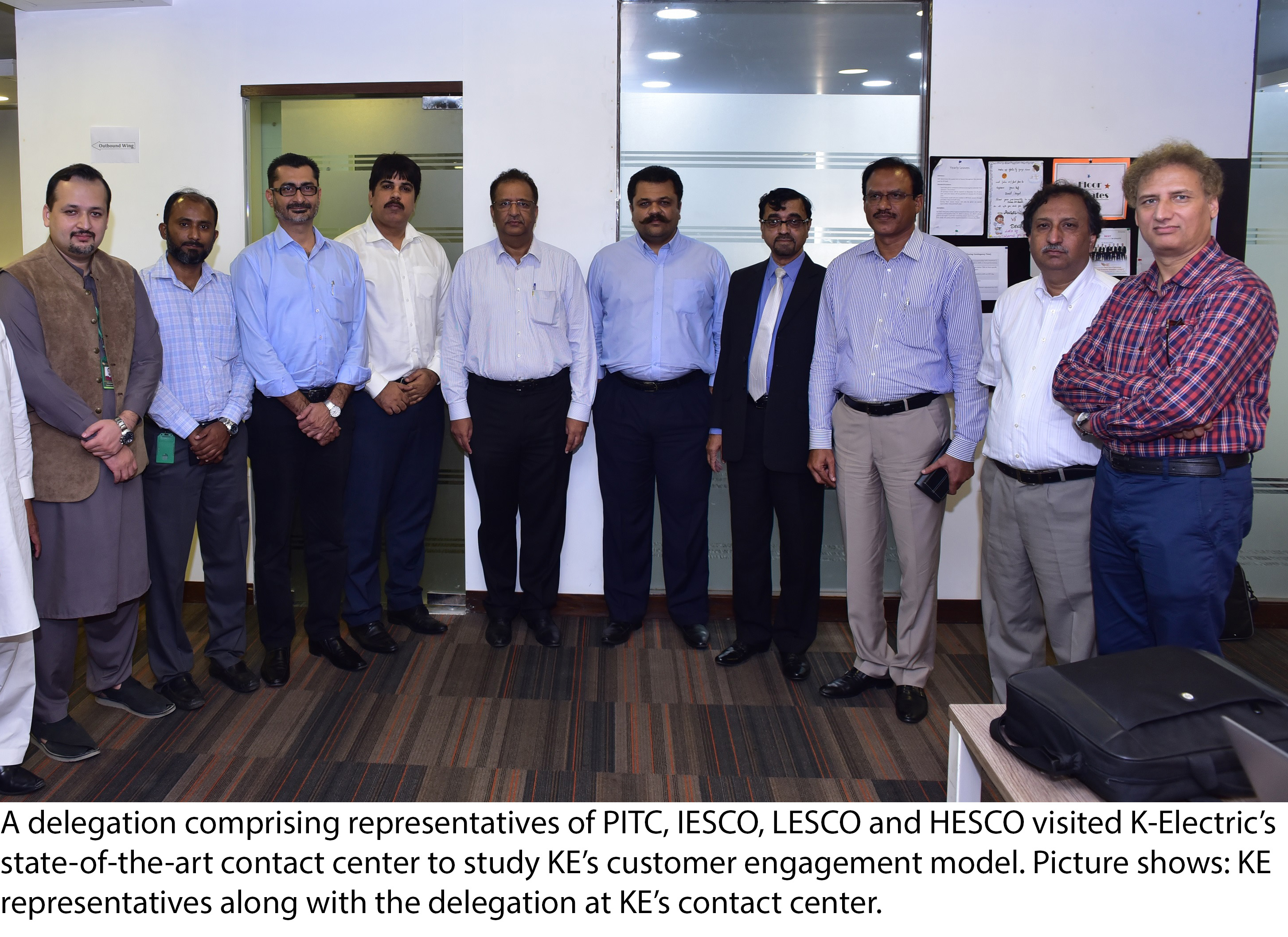 Karachi, August 24, 2017: A delegation comprising representatives of PITC, IESCO, LESCO and HESCO visited K-Electric's state-of-the-art contact center to study KE's customer engagement model.
Power Information Technology Company (PITC) is an autonomous body providing ICT related solutions to ex-WAPDA distribution companies.
On this occasion, Aziz Ahmed, CEO, PITC said, "We are glad to observe that KE has deployed effective customer relations practices and systems which are among the best in the market. We appreciate KE's knowledge sharing approach, which will help us implement similar solutions in our facilities."
According to KE Spokesperson, "KE serves its customers through one of the largest call centers in the country. In line with our approach towards continuous process improvement, we have constantly been upgrading our infrastructure as well as investing in training and development of our customer care team as per global best practices of the industry. We are glad to share our learnings regarding customer support with representatives of PITC and other DISCOs."
K-Electric offers a wide range of customer care touch points from its award-winning call center equipped with world's leading customer engagement platform Genesys, centralized handling of complaints via web to dedicated customer care offices in 29 IBCs. In addition, it offers live chat service via SMS and complaint resolution 24/7 via email and social media forums besides mobilizing mobile vans across the city to facilitate customers at their doorstep.
KE is also one of the first utility companies to implement SAP IS-U – a state of the art customer relation and billing management system. Earlier this year, K-Electric become the first Pakistani company to win the 'Best Use of Technology' Award in the 'Best Customer Innovation' category at the Genesys G-Summit Middle East 2017 held in Dubai.
The delegation included Aziz Ahmed, CEO, PITC; Imtiaz Ahmad, DG AD, PITC; Attique Ahmad, Addl. Director IT, PITC; Khalid Masood, DG IT, IESCO; Imtiaz Rasool, Addl. DG IT, LESCO and Jamil Ahmad, Addl. DG IT, HESCO.