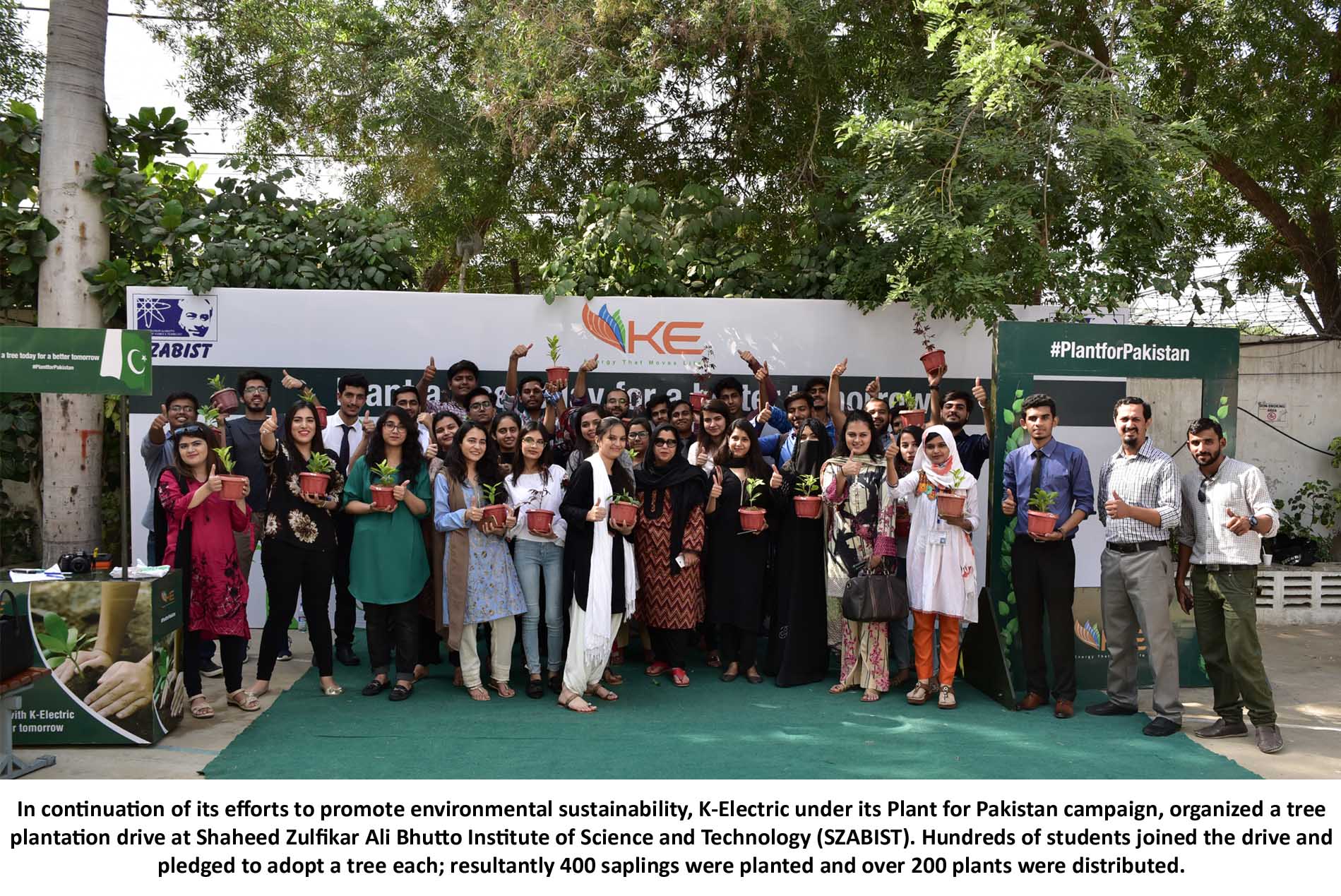 KARACHI – November 20, 2017: In continuation of its efforts to promote environmental sustainability, K-Electric under its Plant for Pakistan campaign, organized a tree plantation drive at Shaheed Zulfikar Ali Bhutto Institute of Science and Technology (SZABIST). Hundreds of students joined the drive and pledged to adopt a tree each; with their collective efforts 400 saplings were planted and over 200 plants were distributed.
It is pertinent to note that 70,000 trees have been planted since the launch of the Plant for Pakistan initiative under KE's climate change policy last year.
According to KE spokesperson, "Aimed at encouraging the youth to play their role for a greener environment and providing them with an opportunity to collectively preserve the ecological balance, we are delighted to partner with SZABIST. KE's Plant for Pakistan campaign provides an opportunity to the community to take collective efforts to protect the environment which further consolidates the values of environmental protection and sustainable development. The enthusiasm observed during the drive at SZABIST motivates us to continue our efforts towards environmental protection and sustainability with even greater vigor."
Spokesperson SZABIST said, "We are grateful for the initiative that K-Electric has taken in educating students about how important it is for us to lead a greener life. Since the students co-managed the event, it also served as an effective learning opportunity for them. We look forward for collaborating with KE for more such initiatives in the future as well."
The utility benefits around 3.9 million lives annually through social partnership initiatives with key philanthropic healthcare and educational organizations. KE has created various powerful platforms to engage the youth in healthy activities through sporting events, providing them professional exposure and encouraging students' initiatives. Earlier this year, KE also partnered with NED University for Plant for Pakistan wherein over 6,000 plants were distributed, and 300 saplings were planted.