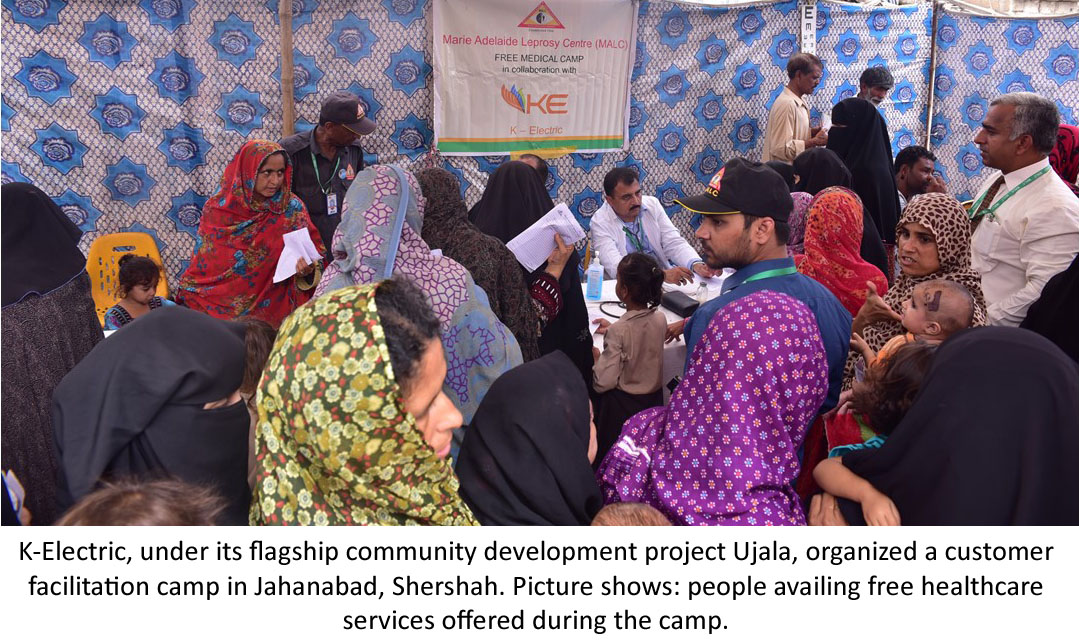 Karachi, September 27, 2017: K-Electric, under its flagship community development project Ujala, organized a customer facilitation camp in Jahanabad, Shershah. The camp was organized in recognition of the community's support for the Aerial Bundled Cable (ABC) conversion drive currently underway in the area.
During the day-long event, a healthcare facility was established in conjunction with Marie Adelaide Leprosy Centre (MALC), which served over 450 patients with free checkup and medicines. Whereas, the customer facilitation camp also assisted the power utility to address requests for provision of new connections along with offering bill payment via easy monthly installments and rebates to eligible customers. Various activities for women and children were also organized. The facilitation camp attracted large turnout and was organized in continuation of previous such engagement drives held in Orangi, Lyari, Korangi, Landhi and Malir etc.
According to KE spokesperson, "In addition to the customer facilitation aspect, the camp provided the power utility an opportunity to directly interact with the customers and collect their valuable feedback. We will continue our focus on stronger customer relationships and creating value for both customers and society."
Representatives of the local community appreciated KE for swiftly upgrading 06 PMTs and 01 sub-station with ABC, which has not only improved the reliability of power supply but has also considerably reduced load-shed hours in the area. They also acknowledged KE's community development initiatives and appealed to the residents to fully cooperate with the power utility for the successful completion of the ongoing ABC conversion drive. Out of the total 900 low cost meters, around 300 meters have been installed in Jahanabad whereas the installation of remaining meters in currently underway.
KE's flagship community development project 'Ujala' is progressing swiftly and aims to empower 1 million lives in 200 communities by the end of 2017. To date, over 600,000 lives in 72 communities have been impacted while over 3,100 PMTs have been converted on ABC through the project. Areas post-ABC conversion have shown tremendous progress and experienced noticeable improvement in provision of power supply. Transformation of Ghazdarabad, a low income community in Karachi, into a power theft free and hence load-shed free community has also received international recognition and quoted as a model community by renowned publication Financial Times.