Karachi, Aug 22, 2019: K-Electric has launched a large-scale operation to remove unauthorized cable TV and internet wires which are encroaching on KE poles throughout the city. During the operation today, KE removed nearly 1,400 KGs of illegal cables and kundas from its infrastructure in parts of Tipu Sultan, KMCHS, Khayaban-e-Shamsheer in DHA and surrounding areas.
The power utility has been fully cooperating with investigations into the unfortunate incidents which occurred during the recent torrential rains in Karachi and is committed to taking remedial measures in light of the result of these investigations. As per initial findings of investigations, majority of the incidents either occurred inside homes or due to non-KE infrastructure such as kundas and hanging lights etc., which are beyond the control of KE. Preliminary investigation findings indicate that internet and TV cables as well as the signal boosting devices, which illegally encroach on KE's electricity poles are often energized and coupled with urban flooding, were the underlying cause of the unfortunate incident that occurred in DHA.
All encroachments on K-Electric's poles tamper with and damage KE infrastructure, jeopardize the integrity of the electricity system affecting service provision, impede routine operations, hinder maintenance efforts and most importantly bypass electrical safety mechanisms thus creating public safety hazards. The power-utility has reiterated that in order to ensure the safety and well-being of citizens, as well as the integrity of its equipment, it will take strict action against all such encroachments and reserves the right to take legal action under the Criminal Law (Amendment) Act, 2016.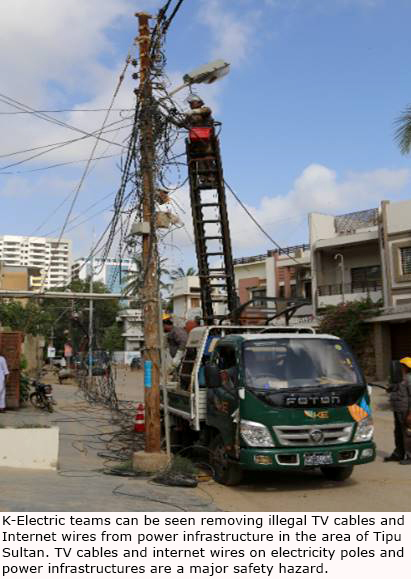 KE has already published a Public Notice apprising all such entities to remove their equipment by 19th August 2019, and has been engaging with all stakeholders including Commissioner Karachi, various Administrative and Regulatory bodies to minimize inconvenience to customers and ensure a smooth transition away from KE poles in the absolute interest of public safety and reliable power supply.