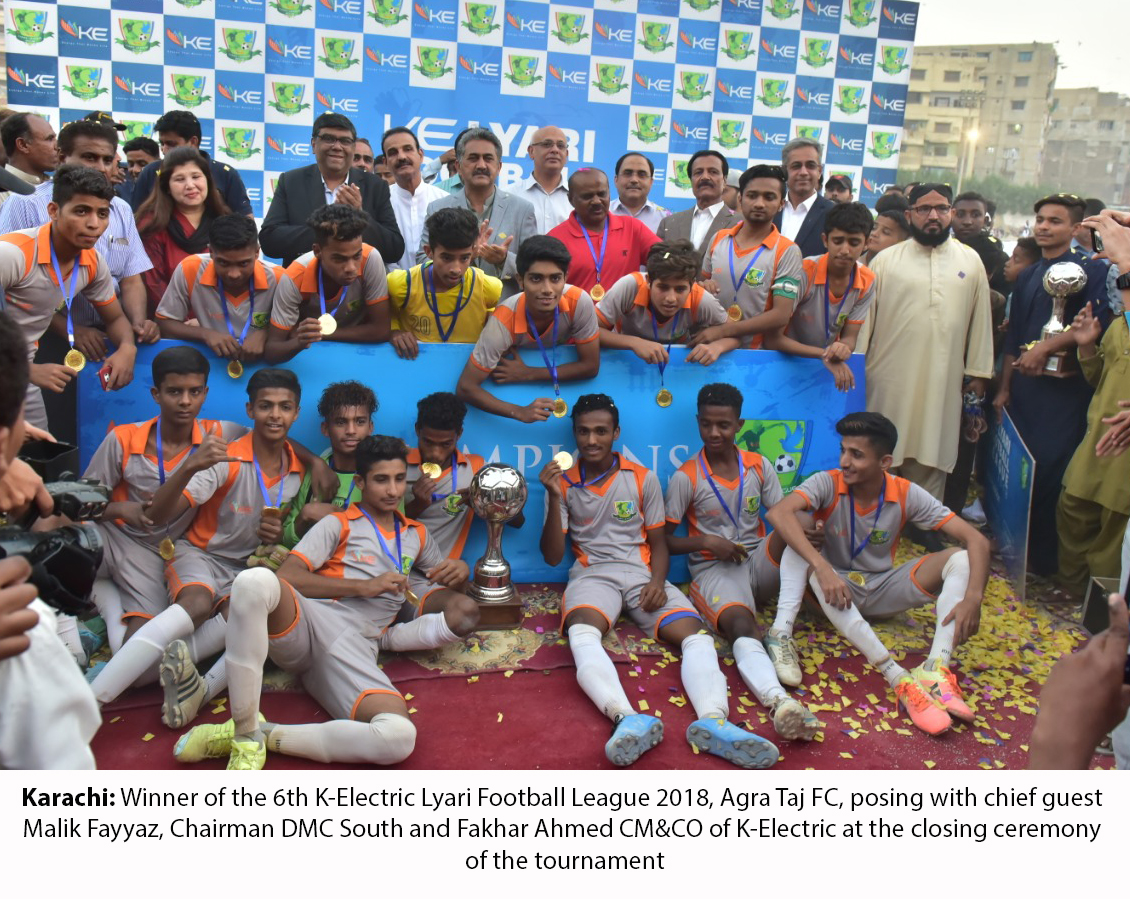 Karachi – November 23, 2018: Agra Taj FC has emerged as the champion of the 6th K-Electric (KE)
Lyari Football League after defeating Kala Kot Kings by 5-3 on penalty shootouts after the match
ended 0-0 in normal time, at the Kakri Football Ground. The Under-16 league-based tournament,
organized by KE in association with District Football Association South, saw 16 teams go head to
head for the top prize.
The extremely competitive final match pitted the two best teams of this year's League. Neither of
the teams was able to score a goal till the final whistle which took the match to penalty shootouts,
where Agra Taj FC won 5-3 defeating Kala Kot FC and claimed the League title for 2018.
At the closing ceremony, after the final game of the league, Chief Guest Malik Fayyaz, DMC South
along with KE Chief Marketing & Communications Officer, Syed Fakhar Ahmed awarded the League
trophy and a cash prize of PKR 100, 000 to the winning team. The runners up received a cash prize
of PKR 75, 000, third place of this year's league went to Gizri Stars receiving a cash prize of PKR 50,
000. For an exceptional performance throughout the competition, Gizri Stars FC's Zubair was
declared Man of the Tournament.
Speaking on the occasion, KE's Chief Marketing & Communications Officer, Syed Fakhar
Ahmed said, "I would like to extend my heartiest congratulations to the winning team today. All the
teams wholeheartedly participated in the tournament – paying homage to former footballing
legends of Lyari with their technical display and skill set. Lyari has always been known to produce
great footballing talent for Pakistan and we hope to see more players from this league develop into
players that represent Pakistan on an international level. KE strongly believes in empowering the
society and giving back to the community. Being a strong advocate of fostering emerging talent, we
will continue our support to channel the positive energy of our youth."
Malik Fayyaz, Chairman, DMC South during the closing ceremony added. "We are proud to have KE
on board with us for supporting the youth of Lyari, as they have previously conducted a women's
football and boxing tournament as well. Such tournaments provide a platform to the young talent
of Lyari. In the near future we will also be inaugurating a Bazinjo synthetic turf ground in Lyari as
well."
A total of 320 participants aged 16 years or under, competed in KE's Lyari League this year. Previous
editions of the league have provided a platform to more than 1,400 children from the locality. Lyari
League was conceived to provide the youth of Lyari with a platform to showcase their footballing
skills and talent.