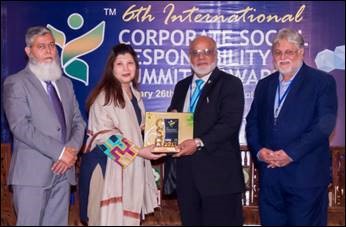 Karachi – February 01, 2017: The Professionals Network has conferred the Best Sustainability Report Award to K-Electric during the 6th Corporate Social Responsibility Awards 2017. Zehra Mehdi, Deputy Director ESG & Sustainability received the award on behalf of the organization during a ceremony held at a local hotel here in Karachi.
The award is yet another recognition of KE's commitment towards embedding sustainable thinking into organizational culture and supporting the community in different areas. The award-winning sustainability report was audited by KPMG and secured a level 'A+' rating from the Global Reporting Initiative (GRI).
KE spokesperson described the award as a testimony of the utility's economic, environmental, and social performance and said, "KE's reputation as a socially responsible power company, well-integrated in the community, has been soundly established and we will continue to build on the foundations of our long-standing commitment to responsible business."
KE reaches around 3.9 million lives annually through various SIP initiatives such as facilitating education for the underprivileged; providing free electricity to Karachi's key educational and health institutions; educating thousands of school children through its fire safety and energy conservation programs while engaging youth through cricket and football platforms including KE-Lyari League. Over the years, KE has received numerous awards from national and regional organizations endorsing its CSR and environmental excellence initiatives.