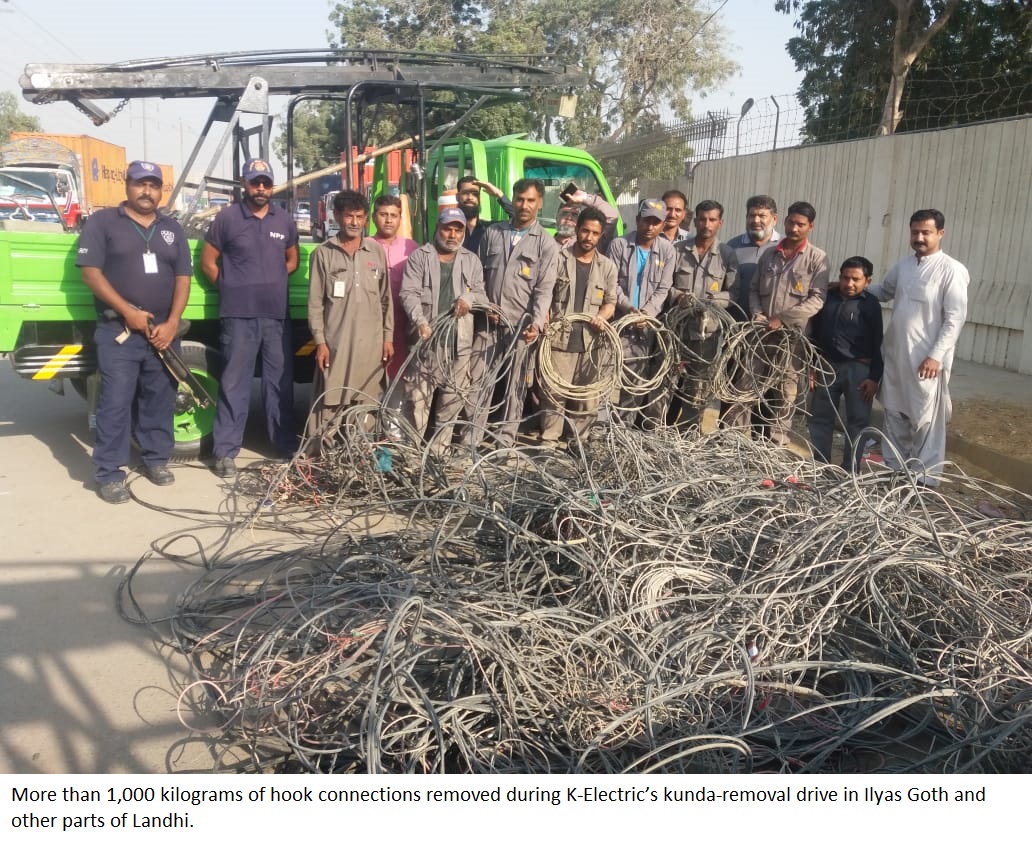 Karachi – 28th November, 2018: In continuation of its efforts to curb power theft and illegal abstraction of power, K-Electric conducted a kunda-removal drive recently in Ilyas Goth and other parts of Landhi. During the drive, hundreds of meter-long hook connections, weighing more than 1,000 kilograms were removed.
The drive which stretched over five hours, resulted in the discovery of underground and overhead cables which were connected illegally to KE's Pole-Mounted Transformers (PMTs). These were removed, despite resistance from the local kunda mafia, with the support of law-enforcement agencies.
According to KE spokesperson, "The power utility reiterates that illegal connections and encroachments around power infrastructure are a potential public safety hazards and we have always raised our voice against this menace. Going forward, our efforts to clamp down power theft will grow more stringent while we have also identified encroachments around our power infrastructure to concerned authorities for immediate action."
Electricity theft creates problems not only for K-Electric but also for people residing in the areas where theft is prevalent. Due to theft and losses, consumers face load-shed, fluctuation and PMT tripping. The anti-power theft drives and upgradation of power infrastructure through the installation of insulated and theft-resistant Aerial Bundled Cables are in line with K-Electric's efforts to curb theft and provide uninterrupted power supply to all parts of the city.
KE also seeks support from the community to help curb the menace of electricity theft. Reports of power theft may be made by calling at 118 or 021-99000 or through KE's Facebook and Twitter pages or anonymously via email at speakup@ke.com.pk.