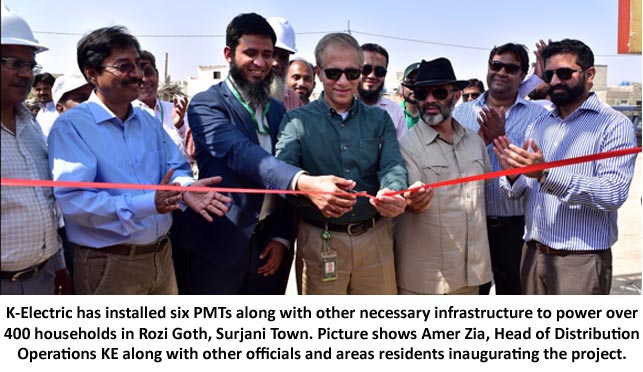 Karachi, 6th November 2017: K-Electric has installed six PMTs along with other necessary infrastructure to power over 400 households in Rozi Goth, Surjani Town. The area was energized recently in a ceremony attended by KE management representatives and the area residents.
Rozi Goth was previously infested with illegal wiring and theft, also causing faults and tripping in adjoining areas. Besides providing the consumers with reliable power supply through low cost connections, load management in surrounding areas has also been enhanced through the project. It is pertinent to note that kunda-resistant Aerial Bundled Cables are installed throughout Rozi Goth and the project has been completed with a cost of over Rs 66 million in partnership with the residents.
According to KE spokesperson, "Our aim is to eliminate power theft while enhancing the reliability of power supply to our customers which will enable us to achieve our vision of a load-shed free Karachi. We are grateful to area residents for their support to achieve timely completion of the project."
During the ceremony, KE team was also thanked by the residents of Rozi Goth for effective execution of the project. KE has successfully completed similar projects in several areas including Qalandarabad, Mughal Hazara Goth, Junejo Town and Chishti Nagar.