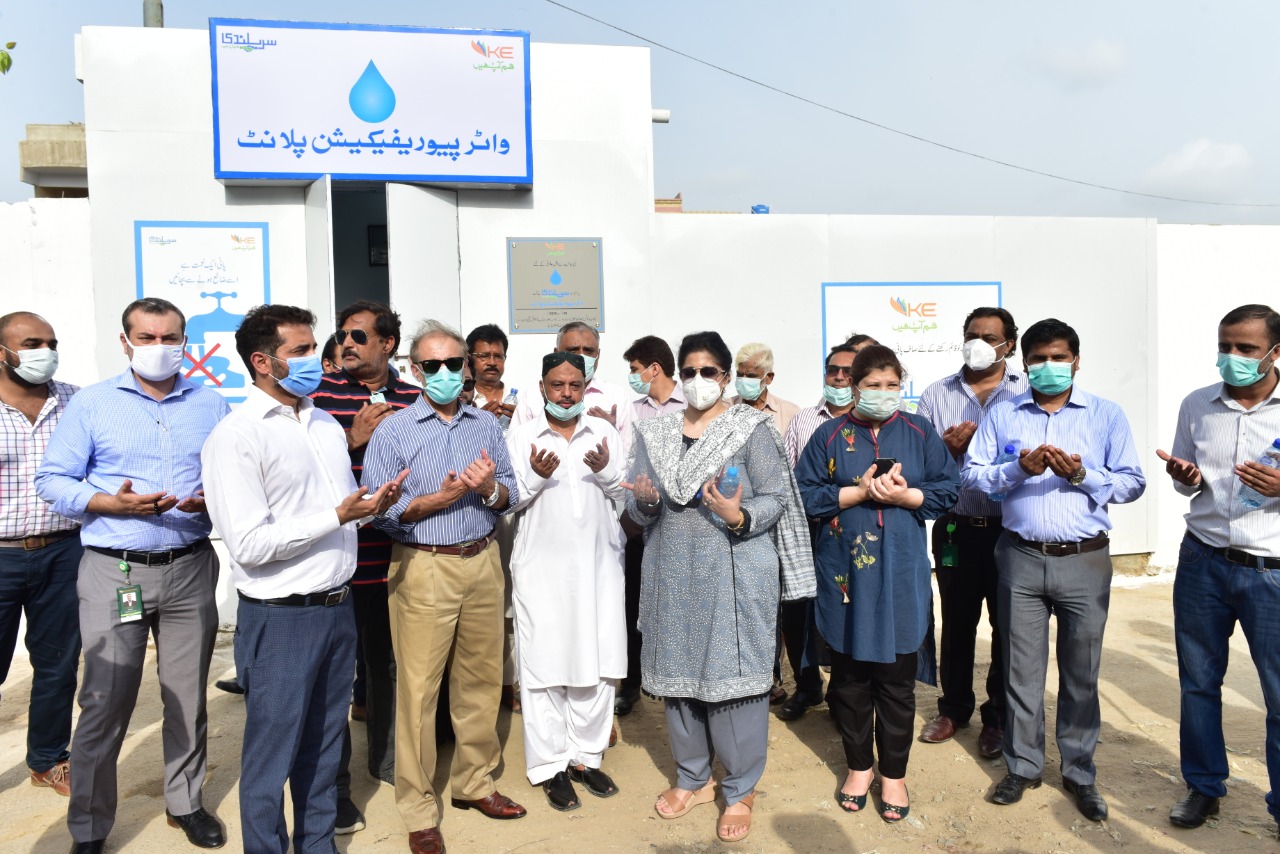 Karachi, 20th August, 2020: As part of continued efforts to engage with the communities it service and provide upliftment, K-Electric (KE) on Thursday inaugurated a new water filtration plant in Surjani Town area. The plant, capable of producing 1,000 gallons per hour, will provide clean drinking water to the surrounding community. With a planned running time of 8 hours a day, the community will be able to receive up to 8,000 gallons per day. The plant will eventually run for 24 hours straight. 10,000 community residents are expected to directly benefit from this.
KE Chief Distribution Officer, Amer Zia, present at the inauguration ceremony said; "KE believes that dual investments in Karachi's infrastructure and communities is vital for long-term growth. Project Sarbulandi, under which this plant has been inaugurated, is the representation of KE's efforts to do just that."
On the occasion, Mahreen Aziz Khan, Chief Marketing & Communications Officer KE, said; "A company is only as strong as the communities it serves. As such, KE strives to go beyond power provision, to empowering communities that will enable the people to benefit in various ways, ranging from clean-up drives, infrastructure development, family melas to medical camps. This water filtration plant is a representation of broader efforts to engage and grow with the wider community."
Member of Provincial Assembly, Waseem Qureshi also attended the plant inauguration and praised KE"s efforts for its efforts. At the event, Mr. Qureshi was apprised of KE's different activities under Project Sarbulandi and its progress this far. The MPA said; "Karachi's communities as a whole can only evolve when public and private stakeholders work together for their betterment. This water filtration plant will help to off set the water supply shortages commonly faced by communities in Karachi."
As part of KE's engagement with community residents via Project Sarbulandi, the power utility also works with the community to combat power theft, invoke best safety practices and to instill in them a sense on the importance of paying power bills on time. KE engages with community residents to provide new low-cost connections, new PMTs and works to convert the communities to Aerial Bundled Cables (ABC) technology which is more theft resistant. This practice will enable KE to reduce its Very High Loss (VHL) areas to Low Loss (ML) areas, thereby improving network health and ensuring more efficient power supply to the wider community.
Targeted at Orangi, Korangi, Landhi, Liaquatabad, North Nazimabad and Surjani, Project Sarbulandi will enable KE to significantly reduce its losses in these areas, while ensuring greater efficiencies in power supply to the communities it serves. Launched in the second quarter of FY 2020, Project Sarbulandi has positively affected 7.7 million people, across 384 communities. Since its launch, KE has managed to reduce load-shed hours in six VHL areas by up to 4.6 hours, converted over 50 feeders to downward category and has converted around 9,000 PMT's to ABC.