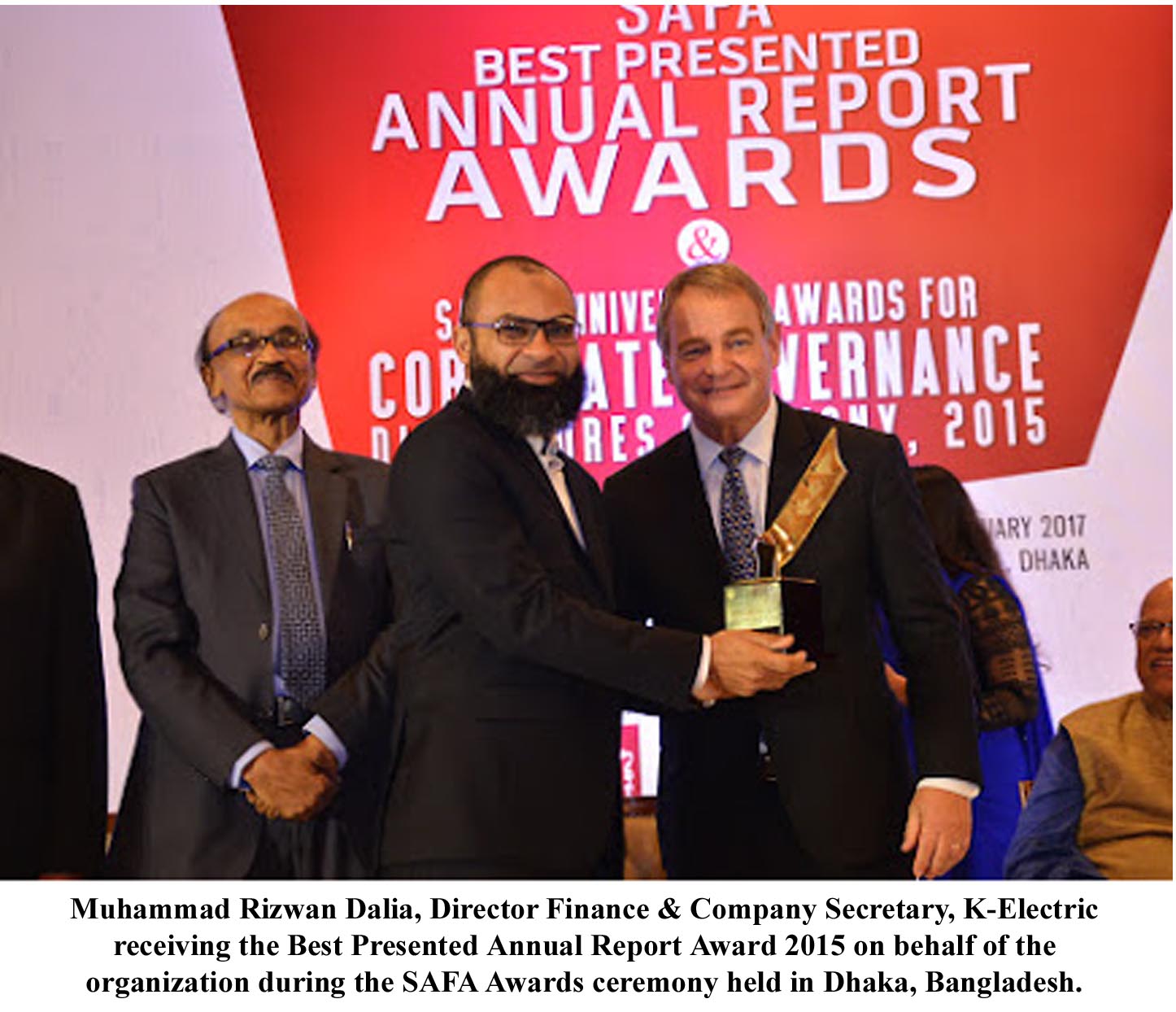 Karachi – February 06, 2017: Further endorsing K-Electric's best practices of disclosure and transparency in its financial reporting, the South Asian Federation of Accountants (SAFA) conferred the 'Best Presented Annual Report Award' for the second consecutive year to KE. Muhammad Rizwan Dalia, Director Finance & Company Secretary, K-Electric received the award on behalf of the organization during the SAFA Awards ceremony held in Dhaka, Bangladesh.
The awards under different categories were conferred based on evaluation administered by SAFA's Committee for improvement in Transparency, Accountability & Governance, of the published annual report of entries from South Asian countries. KE secured the Best Presented Annual Report Award 2015 in the Service Sector category excluding financial services and communication & IT sector.
On this occasion, K-Electric spokesperson shared, "Transparency, accountability and governance in financial reporting is the hallmark of K-Electric's philosophy. We are humbled that this has been endorsed by esteemed national and regional stakeholders. This award is a testament of the trust our stakeholders put in us and renews our vigor to continue serving Karachi with great diligence while continuously improving the quality of our services."
In 2016, KE secured second position in the fuel and energy sector at the Best Corporate and Sustainability Report Awards 2015 jointly organised by The Institute of Cost & Management Accountants of Pakistan (ICMAP) and the Institute of Chartered Accountants of Pakistan (ICAP) – whereas in 2014, the utility secured fourth position in the same category. KE also secured a level 'A' rating from the Global Reporting Initiative (GRI) for its Integrated Sustainability Report for the year 2012. This makes K-Electric the first power utility in Pakistan to achieve the level 'A' rating for an integrated report.