K-Electric believes in contributing to the health of the communities in which it operates, and maintains a wide range of CSR activities in order to help build a better society for all.
KE facilitates communities in energy conservation, environmental protection, health, education, skill development, poverty reduction and other activities for socio-economic development. We also conduct studies on the potential environmental and societal impact of our new projects, ensuring that our initiatives act as a catalyst for positive change.
Social Investment Programme
We firmly believe in empowering through power.
KE's Social Investment Programme (SIP) benefits 4.9 million people annually by supporting 16 philanthropic institutions and NGOs in the areas of health and education. In addition to providing free or subsidized electricity, KE also assists these organisations in a variety of ways, including leveraging our operational capabilities and the experience of our workforce to improve their power systems. Under this programme we also cover unforeseen calamities, facilitating the victims through relief of up to six months on their electricity bills.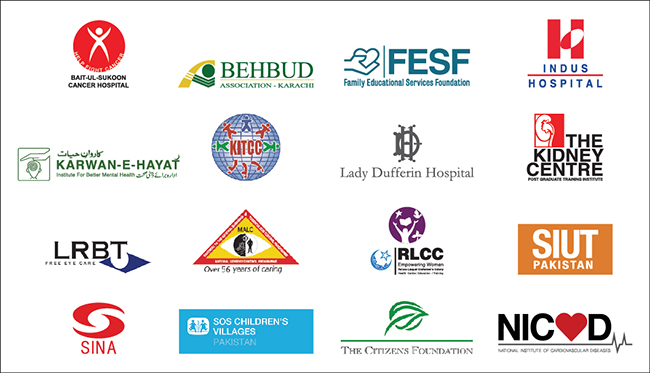 System Enhancement Programme
KE provides capacity enhancement to ensure fault-free power supply to all strategic hospitals and other vital organs of the city. Dedicated feeders and PMTs are provided free of cost, along with the system enhancements required to allow a smooth running of operations. This has been implemented at 16 vital organs of the city.
Community Development
Project Ujala
Project Ujala is being carried out in communities across Karachi through the installation of Aerial Bundled Cables and low-cost meters which ensure reliable electricity supply and consistent voltage. This is accompanied by holistic engagement with the local communities, through camps and community meetings, as well as targeted communication drives. In addition to this, social welfare projects such as health camps and cleanup drives are also carried out for community benefit. For further details, including testimonials and videos, please visit the Ujala microsite: http://keweb-dev-keweb.azurewebsites.net/ujala/
Theft-Free Community Creation
KE initiated illegal hook connection conversions to legal connections through subsidised electricity connections and long-term retention of converted consumers. Our strategy was three-pronged:
Conversion: Conversion through stakeholder engagement, subsidised connections and development initiatives.
Prevention: through ABC installation.
Retention: through ensured billing range and energy conservation initiatives.
This initiative focused on rehabilitating high-loss and very high-loss areas in collaboration with the local leadership, the community and welfare organisations. For the pilot project we went into a no-go, high-loss area, Altaf Town, and targeted 2,000 households; a massive anti-theft awareness campaign was created. We introduced simultaneous conversion to ABC along with meter installation, frequent one-stop application payment camps, and health drives.
Emergency Response Initiative
Calamity
In times of calamities, such as floods, fire incidents and bomb blasts, KE has set an industry precedent by stepping forward to support those affected. In recent years, we supported the victims of the Kharadar fire incident, the Abbas Town victims, the Baldia industrial fire incident and the victims of the timber market fire incident. Monthly electricity bills for the following six months were waived for those affected, and KE's initiative has been reciprocated by other entities.
Summer 2015
In partnership with the Aman Foundation, KE set up camps at six focal points in Karachi. This activity lasted 23 days, during which 200,000 water bottles and ORS sachets, and 110,000 Iftari boxes were distributed. Jinnah Hospital, Indus Hospital, and Civil Hospital were supported through water, ORS and air conditioners.
Summer 2016
Being a responsible corporate citizen, KE took the initiatives for creating awareness to prevent heat spells. KE brought key stakeholders, Pakistan Medical Association, Commissioner Karachi office, Pakistan MET Department and NDMA, on a single platform to ensure every one played their role for public safety against possible heat spells. KE partnered with different NGOs and civil society organizations and equipped them for on ground relief support. These included AMAN Foundation, Karachi Relief Trust and Voice of Karachi along with emergency support to Jinnah Hospital. Relief goods included water bottles, ORS, caps and collateral to educate on heat spells preemptive measures.
Employee Volunteering
Volunteer initiatives such as blood donation camps are organised regularly at various KE locations. Our employees regularly participate in the INJAZ Pakistan, TCF Rahbar and TCF Career Counseling programmes. They also conduct management workshops to aid the capacity building of our social investment partners. Technical training and plant tours are conducted by our technical experts, imparting knowledge and strengthening our knowledge sharing platform.
KE – TCF School
The TCF school constructed in 2014 within the KE's employees residential colony has become one of the flagship TCF campuses in Karachi. Built on 5,000 yards of land donated by KE, the campus has the capacity to incorporate 1,000 students, with huge sports grounds and airy classes, and services the whole of the Bin Qasim area.
Knowledge Sharing Platform
Since the inception of the Youth Engagement Platform, numerous sessions have been conducted in terms of technical visits and lectures, aimed to impart real-life technical knowledge of the course matter being studied at technical universities. So far the initiative has reached approximately 1,000 students, who have gained invaluable insights and practical experience. Major institutions which have partnered with us on this platform include NED, IBA, FAST, KSBL, SSUET, Mehran University Nawabshah, Mehran University Jamshoro, Bahria University, and IoBM.
This initiative aims to impart practical and invaluable knowledge to students and faculty members. So far our various youth engagement platforms have benefited over 8000 students. Major institutions who have partnered with us on this platform are NED, IBA, FAST, KSBL, SSUET, Mehran University Nawabshah, Mehran University Jamshoro, Bahria University, and IoBM to name a few.
Power System Simulator for Engineering (PSSE) Sponsorship and PHD Facilitation
In 2015, KE invested in NED University's PHD programme as a facilitation partner. PKR 1.8 million has been invested under this initiative to benefit students at NED University in their understanding of the real power system by making models, running load-flows and simulating faults for their research studies.
Sponsorship of NED for Formula SAE event in Italy
KE sponsored NED's mechanical car to participate in the Formula SAE event in Italy. This was the first time a team representing Pakistan participated in the prestigious event. Teams from USA, UK, Germany, Italy, Japan, Brazil and Australia were present for this competition which was held at the Varano de' Melegari Riccardo Paletti Circuit, in Italy. The vehicle was unveiled before leaving Pakistan by the Governor Sindh and Chancellor NED Dr. Ishrat Ul Ebad.
KE – NED Lab
KE in order to further strengthen the knowledge sharing platform for future engineers has established a first of kind, state of the art Electrical Engineering Lab at NED University. The first of its kind initiative enables electrical engineering students to gain first-hand practical access to complex electrical equipment, while enhancing R&D activities in line with KE's research driven approach. The equipment includes modified relays testing benches, transformers and various other valuable devices used in grid stations.
Technical Lectures
Experts in their fields conduct technical lectures and guest speaker sessions where students from engineering universities are encouraged to approach us with ideas and research topics for which we provide support, essentially aiming to benefit both the industry and the academia. Strategic partnerships have been created under this umbrella with leading institutions like NED, SZABIST, PAF-KIET, SSUET, Quaid-e-Awam University Larkana, Quaid-e-Awam University Nawabshah, Bahria University, IBA, Aligarh Institute, St. Patrick's institute, IoBM among notable others.
Pride of Karachi Awards
In 2014, we commemorated the rich history of Karachi by paying tribute to individuals from all walks of life. The ceremony was a humble attempt to recognise and honour those individuals who have worked selflessly and passionately for the betterment of this society. The winners of the 'KE Pride of Karachi Awards' were presented with a lifetime supply of 'free' electricity from KE. They included Arshad Abdullah, Habib Fida Ali, Abdul Sattar Edhi, Dr. Adib Rizvi, Hakeem Muhammad Said, Dr. Ruth Pfau, Zehra Nigah, Mehdi Hassan, Moin Akhtar, Zia Mohyeddin, Jahangir Khan and Muhammad Yousuf.